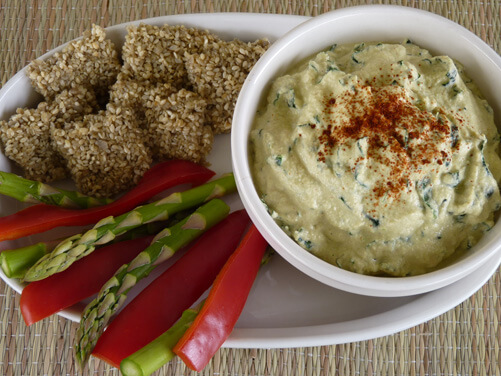 Serve this on raw bread or crackers, as a dip for veggies, or water it down a bit for a salad dressing!
Ingredients:
1 cup cashews, soaked for a few hours
2 cups peeled and seeded cucumbers
2 cloves garlic, peeled and chopped
2 TB fresh lime juice
1/2 tsp. paprika
1/4 tsp. or more Celtic sea salt
dash of black pepper
2 – 3 leaves of Lacinto Kale, stems removed, thinly shredded
Place all ingredients except kale in a high speed blender and process on high until thoroughly blended, adding more cucumber if needed. Transfer to a bowl and gently mix in shredded kale leaves. Sprinkle with paprika just before serving.