About HarDarshan K. Khalsa, MA, LCMHC
COMMITMENT
My life's commitment is about serving others and the planet so that we can all be as healthy and happy as possible. Whether through my own spiritual and health practices, or counseling and teaching others, or serving my family, I am committed to fostering joy on the planet.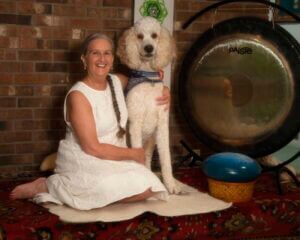 HAPPINESS
I enjoy creating resonance, harmony, and balance within myself, with my family, friends, and clients. I believe that it's important for me to represent grace in a world that sometimes has little of it. My personal approach to life and to healing is that it should be UPLIFTING! I am POSITIVE that you can be happy! I'm a great believer in HAPPINESS, and one of my favorite projects in undergrad school was authoring a paper on happiness, and how we can create it for ourselves.
NATURE
One of my great passions is nature. I have been a co-creative gardener for over 20 years. This type of gardening could be called "spiritual gardening" and was first recognized in the world-famous Findhorn gardens in Scotland. I also practice another kind of spiritual gardening: I have raised 2 beautiful children who are all grown up and married. One of my great joys is my small granddaughter.
During my years in Colorado, I enjoyed hiking in the mountains, and I love the beaches of North Carolina. For ten years, I lived in a log cabin near Wake Forest, where the only source of heat and cooking was a wood cook stove. I adore plants, and in the late '70s was the proprietor of a plant store called "Mrs. Potter's Plants." It had a gorgeous rainbow on the front picture window, which ended in a potted plant! Another aspect of nature that I am passionate about is crystals – their beauty and their healing qualities. I collect pottery and enjoy walking in the woods with my dog Rajah
CREATIVITY
I believe that creativity is an essential part of life. I enjoy preparing healthy food (see my recipes) and singing, and was a professional musician for a time in the '70s. (Are you getting that this was a pretty interesting time?) I love creating sacred space within homes, and this is something I occasionally do for clients as part of the healing process. Visit Sacred Nest for more information.
One of my therapeutic passions is Sand Play. This is a wonderful creative, non-verbal, symbolic, and playful approach to learning more about oneself. I hold a certificate in Sand Play therapy from Naropa University.
EDUCATION
When I began college in the '70s, I was a Creative Writing major. I stopped half way through this degree to raise a family. When my kids were teenagers, I finished my degree in Transpersonal Psychology, and then went on to complete my Master's Degree in Transpersonal Counseling Psychology at Naropa University in Boulder, CO. Transpersonal Counseling could be called spiritually based counseling, as it encompasses all aspects of an individual: physical, emotional, mental, and spiritual, whereas traditional psychotherapy primarily focuses on the mental and emotional.
I am a licensed clinical mental health counselor in the state of North Carolina and maintain a private psychotherapy practice. My specialties include spiritual development, relationship issues, issues of health, illness, death, and grief, as well as the Highly Sensitive Person.
BODY, MIND, and SPIRIT
This body, mind, and spirit hologram is intrinsic to my life path. I was raised in Ohio in a Christian environment, and adopted the Sikh faith as an adult. The Sikh faith originated in India and upholds the belief in one God, and that all faiths and scriptures are to be respected.
I have trained and worked as a hospital chaplain, supporting people of all faiths as they deal with health crises. I have been a guest lecturer for the Duke University Religion Department.
I believe that our relationship with the Divine is important, whatever faith tradition you practice.
I will close this page with a favorite song that I was first introduced to when I was 14 years old. Every yoga class I teach ends with this song:
"May the long time sun shine upon you,
All love surround you,
And the pure light within you,
Guide your way on!"