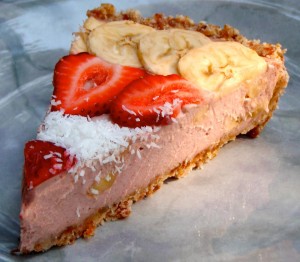 1 cup finely shredded unsweetened dried coconut
1 cup almonds, preferably soaked and dehydrated
1/2 cup pecans, preferably soaked and dehydrated
1/2 cup pitted Medjool dates
Topping Ingredients:
1 cup sliced strawberries
1 sliced banana
shredded coconut

Filling Ingredients:
1/2 tsp. ground vanilla beans or vanilla extract
1 tsp. sunflower lecithin

Crust Directions
Process the coconut, almonds and salt in a food processor until finely ground. 
Add the pecans and process just until they are coarsely chopped.
Add dates and process until mixture sticks together.
Press into a glass or pottery pie dish.

Filling Directions
Place the two sliced bananas in a medium bowl and set aside. Put 1 banana, 2 cups of whole strawberries, the coconut butter, dates, vanilla, and salt in a blender and blend until smooth.
Add the lecithin and blend until it is incorporated.
Pour the mixture over the sliced bananas and stir well.
Spread the strawberry banana coconut filling in the pie crust.
Decorate the top with banana slices, strawberry slices and coconut flakes.
Chill at least 4 hours before serving.