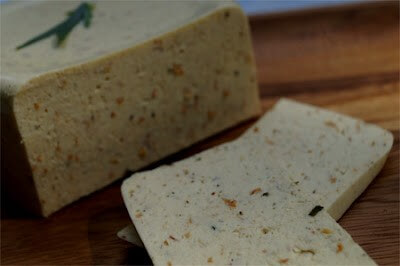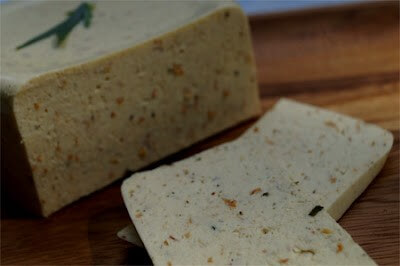 1 1/2 cups water
1 1/2 TB agar powder (can be found at Whole Foods in Asian section)
1/2 cup almonds, soaked 8 – 12 hours
1/4 cup nutritional yeast (at Whole Foods in bulk section)
1/4 cup lemon juice
2 TB hemp seeds (refrigerated at Whole Foods)
2 tsp. Dijon mustard
1/2 TB onion powder
1/2 tsp. garlic powder
1/2 tsp. dry mustard
3/4 tsp. salt
1 garlic clove
1 1/2 TB finely chopped fresh tarragon leaves (or 2 – 3 tsp. dry)
Set aside a 2 cup plastic storage container
In a blender add the almonds, nutritional yeast, lemon juice, hemp seeds, onion, and garlic powders, dry and Dijon mustards, salt, and garlic clove.
Combine water and agar in a small pan and bring to a boil. Reduce the heat and simmer, stirring often with a whisk, until completely dissolved, about 5 to 10 minutes.
Add mixture to other ingredients in blender and process until smooth, scraping sides of blender jar as necessary.
Add chopped tarragon and process briefly on low speed, just to incorporate.
Pour into container and cool uncovered in fridge.
When cool, cover and chill several hours. To serve, turn out of container and slice. Store covered in fridge. Will keep several days.
You can also put it in the freezer for 30 minutes and then transfer to the fridge so it's ready to be served sooner.