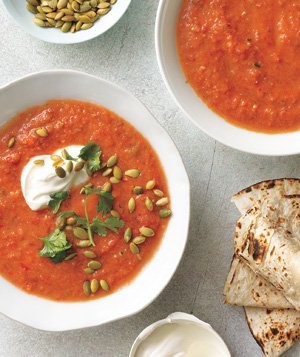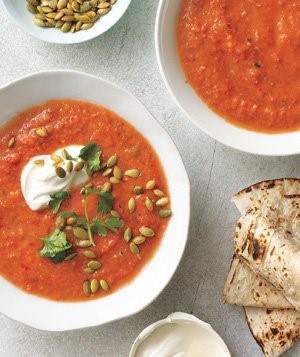 Use the lovely fresh tomatoes becoming available now, in this refreshing summer soup!  Serves 4.
2 1/2 pounds tomatoes, chopped
2 cucumbers (about 1/2 pound) peeled and chopped
1 red bell pepper, chopped
1 small pobalano pepper, chopped
1/2 small red onion, chopped
3 TB fresh lime juice
2 TB olive oil
sea salt and black pepper
1/4 cup pumpkin seeds
Cilantro sprigs
*In a blender, working in batches, puree the tomatoes, cucumbers, bell and poblano peppers, and onion, transferring the mixture to a bowl as you work.
*Stir in the lime juice, oil. 1 1/4 tsp. salt, and 1/2 tsp. pepper, and refrigerate until chilled, 15 – 20 minutes.
*Divide among bowls and top with pumpkin seeds and cilantro.