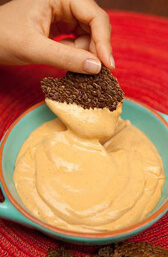 Ingredients
1 large yellow bell pepper
1 cup cashews or macadamia nuts, or a combination, soaked 3 -4 hours (1/4 cup
pine nuts and 1/4 cup Brazil nuts can be substituted for cashews)
Juice of 1 lime or lemon (about 1/4 cup)
1/4 tsp. Celtic, Himalayan, or pink salt
Directions
Cut the bell pepper into small chunks and place in blender with nuts. Blend on high speed until creamy. Add lemon juice and salt to taste. You can add more water to thin or nuts to thicken.
Variations
Any nut or seed or even avocado can be substituted for variety. Paprika, cayenne and chili powder can be added to make a spicy nacho "cheese" dip.
Use this on your favorite cracker or as a vegetable dip. You can even spread it on a sandwich! No dairy, no cholesterol, but lots of fun!