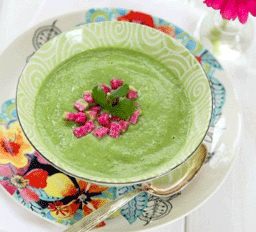 A simple way to get greens into your diet!
Ingredients:
1 cup diced tomatoes
1/2 cup water
2 cups spinach
1/2 avocado
1/2″ fresh ginger root
juice of 1/2 lemon
Directions:
Simply place all ingredients into your blender, and blend until smooth. Taste test and adjust to suit. You may need to add more water. If you blend it long enough, it will even get warm! Pour into a bowl and add some chopped or grated veggies if desired. Flax crackers are nice to have on the side.