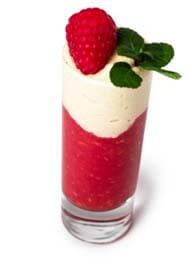 (a gourmet raw dessert that's easy to make!)
Serves 8 – 12
Raspberry Jam
2 cups fresh raspberries
1 TB flax seeds
5 dates, pitted
1/2 tsp. lemon zest
Preparation for Raspberry Jam
1. Combine 1/4 cup of water and flax seeds in a small dish.
2. Cut the dates in half. Soak in warm water for 10 minutes, then drain.
3. Combine raspberries, flax seeds, dates, and lemon zest in a blender and blend until smooth.
Cashew Cream
1 1/2 cup cashews, soaked
1/2 cup fresh squeezed orange juice
2 tb. agave nectar
Preparation for Cashew Cream
1. Place cashews in a glass or ceramic bowl. Add enough filtered water to completely cover the cashews. Let soak for 2 hours. Drain and rinse.
2. Combine the cashews, orange juice, and agave nectar in a blender.
3. Add water as needed to reach desired consistency.
Layer a glass starting with raspberry jam, then cashew cream, and finally garnishing with fresh raspberries!