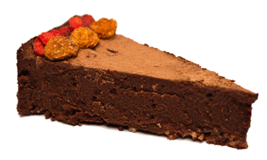 This silky smooth chocolate cheesecake is pure decadence! No one would ever guess that it is raw, vegan, and loaded with nutrients! It's melt-in-your-mouth delicious!
CRUST:
1 cup Brazil nuts, raw
2 TB liquid sweetener (such as agave or yacon)
1 TB coconut oil
1 tsp. vanilla powder
pinch of salt
Blend all ingredients in a food processor until mixed well. Press into bottom of a 9″ spring form pan. Chill in fridge.
FILLING:
2 1/2 cups cacao powder
1 1/2 cups coconut palm sugar
1 1/2 cups coconut oil
Mix in a bowl into a smooth cream. Add to pre-cooled crust. Decorate top with goji berries and chill in fridge until firm.