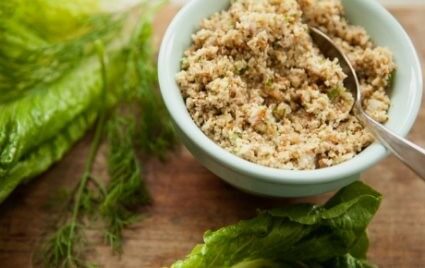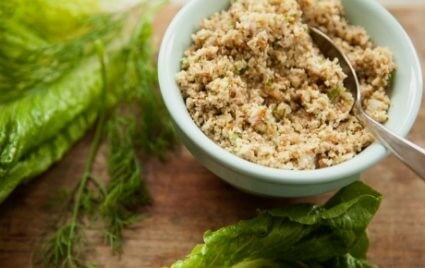 1 cup raw almonds, soaked for a few hours or overnight in water, then slip the brown peels off
1 cup sunflower seeds, soaked for a few hours or overnight in water
1/3 cup minced celery
1/4 cup minced red onion
1/3 cup pickles, diced (Bubbies  brand is nice, unheated)
2 TB minced fresh dill
1 TB minced fresh oregano
3 TB lemon juice
1 tsp. agave syrup
2 TB kelp granules
1/2 tsp. salt
freshly ground black pepper to taste
1. Blend the soaked, peeled almonds and the sunflower seeds in a food processor until finely minced (the finer the better). Transfer into a bowl.
2.Add the celery, onion, pickles, herbs, lemon juice, agave, kelp, salt and pepper to the nut/seed mixture and stir thoroughly.
3. Enjoy on sandwich bread, raw crackers, or a salad!